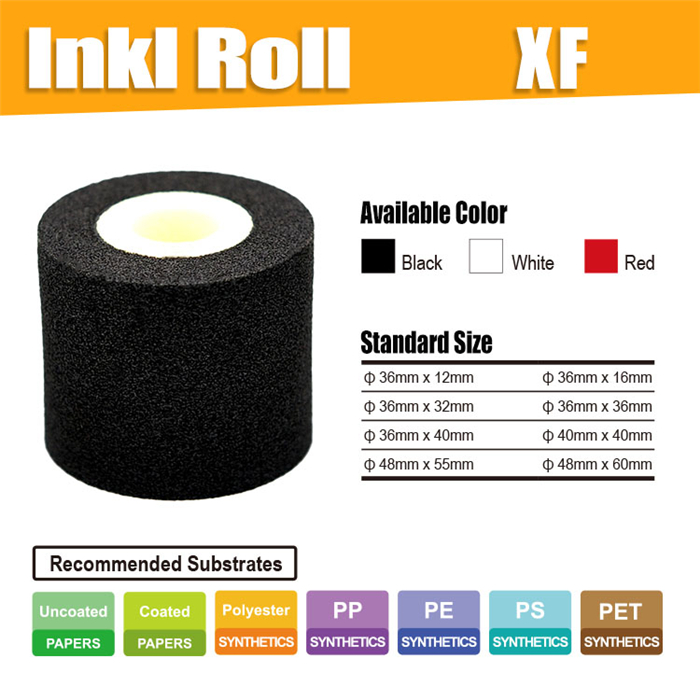 Product Name:XF
Product Category:

Product Details:


Apply used with Hot Ink Roller Marked Machine and Sealing Machine. Can achieve fast printing, Easy to use, Clear printing, Quick-drying, Non-polluting, All material are imported, High stable quality, Can printing more times, Higher adhesion than XJ-Type. Can let the clients satisfy with the adhesion.

E-Mail:
Products: XF- Premium Ink Roll
Printing Capacity: 90,000Time

(single line)

Printing temperature: 100-160℃
Available Colors: Black, White, Red
Features:
X-F is our premium ink roll.
It has superior adhesion and abrasion resistance. With the upgraded melt-ink and foam roll, the X-F roll offers sharper printing images and longer service time comparing to the standard ink roll. it's available in black, white and red.
Recommended Subtrate:
Uncoated Paper, Coated Paper, Polyester, PP, PE, PS, PVC
Standard Size:
| | |
| --- | --- |
| Φ 36mm x 12mm | Φ 36mm x 16mm |
| Φ 36mm x 32mm | Φ 36mm x 36mm |
| Φ 36mm x 40mm | Φ 40mm x 40mm |
| Φ 48mm x 55mm | Φ 48mm x 60mm |
*

First Name:

Please fill in your First Name

*

Last Name:

Please fill in your Last Name

Company name:

Please fill in your company name

Telephone number:
Mobile phone number:

Please fill in your telephone number

*

E-mail:
Country:
Address:

*

Inquire intention description:

*

Validate Code:
Please fill in the quantity and description of

Inquire

products for uniform stocking.
YD-106 is our basic wax-based TTR. It offers an economical solution for most of the paper applications with the fairly good printing performance
YD-182 is the resin enhanced wax TTR. It's a multi-purpose barcode ribbon which is suitable for many applications. It has the sharp printing quality with very good scratch-resistance and heat-resistance.
YD-183 is our top grade resin enhanced wax TTR. It's the upgrade version of YD-182, and has the highest attribute in the resin enhanced wax group. Shortly after introduced into the globe market, it has quickly become our bestselling TTR.
Tel: +86-373-2629618
Fax: +86-373-2649588
E-MAIL:
info@fineray.cn
ADD:268 West Ring Road,Xinxiang City, Henan Province, China