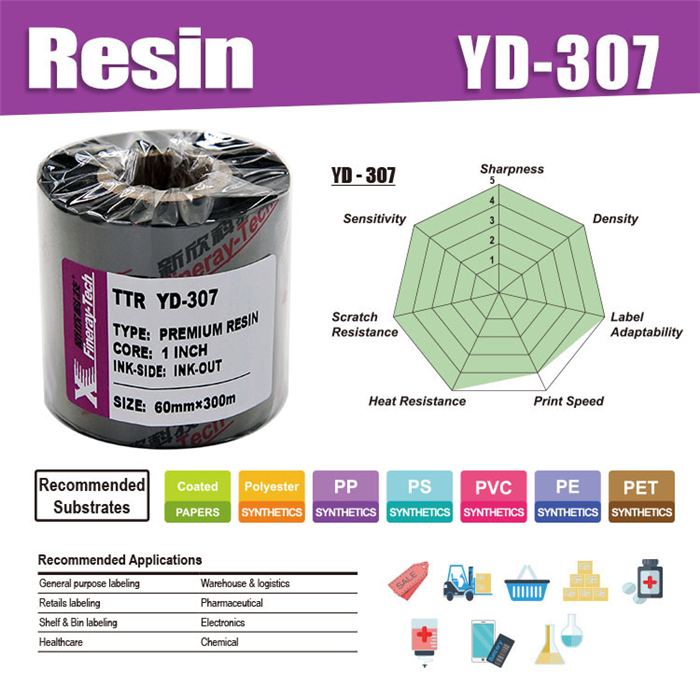 Product Name:YD-307
Products: YD307 - Premium Resin TTR
| | |
| --- | --- |
| Thickness of Ribbon :6.2±0.3 μm | Thickness of Ink :1.7±0.2 μm |
| Static Index :≤0.02 kv | Optical Density :≥1.3 D |
| Color Density :≥2.2 DB | Printing Speed :12 IPS |
| Ink Melting Point :100℃ | |
Features:
YD-307 is our premium resin TTD
This one is our best thermal transfer ribbon product, it has the top all-around attributes. it's ideal choice for the high-end market sectors.
Recommended Subtrate:
Coated Paper, Polyester, PP, PS, PE, PET, PVC
Recommended Application:
General Purpose Labeling, Retails Labeling, Shelf & Bin Labeling, Asset Tracking, Warehouse,
Health Care, Electronics, Chemical
Compatible Printers:
Zebra, Sato, Datamax, Intermec, TSC, CAB, Avery, Argon, Toshiba TEC, ect
*

First Name:

Please fill in your First Name

*

Last Name:

Please fill in your Last Name

Company name:

Please fill in your company name

Telephone number:
Mobile phone number:

Please fill in your telephone number

*

E-mail:
Country:
Address:

*

Inquire intention description:

*

Validate Code:
Please fill in the quantity and description of

Inquire

products for uniform stocking.
Tel: +86-373-2629618
Fax: +86-373-2649588
E-MAIL:
info@fineray.cn
ADD:268 West Ring Road,Xinxiang City, Henan Province, China